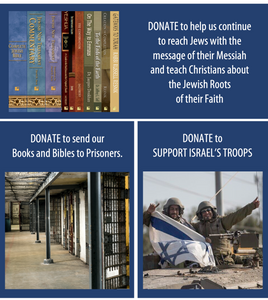 Please consider becoming one of our ministry partners.
1. Help us spread the Messianic Jewish message around the world through publishing our Complete Jewish Bible and other relevant and pertinent books.
2. Help us fulfill prisoner's requests for the Complete Jewish Bible and our Messianic Jewish books. 
3. Help us help the Messianic Jewish congregations in Israel to get aid to the IDF. 
100% of all donations go directly to the purpose that you choose. 
All donations are tax deductible in the USA. Donate by $10 increments  (ex: $10 x 10 = $100)