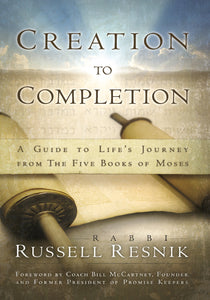 Have you ever wondered if the Pentateuch -- Five Books of Moses -- ­is relevant to your life?

Do you think the Law, the Torah, has been relegated to a relic from another era?

How do the commandments, given to the Jewish people, contribute to society today?
In Creation to Completion, Russell Resnik answers these questions, offering insight into the Torah. he shows that the Creator still desires his creatures to participate in bringing the Creation to completion. After each commentary, he presents a challenging thought "For the Journey."
What scholars are saying about this book:
"Paul urged Timothy to study the Scriptures (2 Tim. 3:16), advising him to apply its teachings to all aspects of his life. Since there was no New Testament then, this rabbi/apostle was convinced that his disciple would profit from studying the Torah, the Five Books of Moses, and the Old Testament. Given first to the nation of Israel, God intended these teachings to be useful for all people, Jewish or non-Jewish. Now, Rabbi Resnik has written a warm devotional commentary that will help you understand you understand and apply the Law of Moses to your life in a practical way."
--Coach Bill McCartney, Founder and Chairman, Road to Jerusalem, Former President of Promise Keepers
"In a time when the knowledge of Scripture is in decline in America and around the world, we desperately need a book like this to encourage people to re-engage with God`s Word. Russ Resnik has done a commendable job of joining scholarly insights with warm-hearted application. His extensive interaction with rabbinic sources may be challenging to some but certainly will open up a whole new world to those interested in learning about the Jewish roots of the Messianic faith."
--David Brickner, Executive Director, Jews for Jesus
"This new book offers an illuminating pathway through the riches of the Jewish heritage."
--Dan Cohn-Sherbock, Reform Rabbi and Professor of Judaism, University of Wales
Russ Resnik has done it again. His earlier work on the Five Books of Moses, Gateways to Torah, showed us the Law as the blessing it is, not the burden many people see it as. In this work, he has taken another step, showing us more clearly our role with God in bringing his Creation to it`s completion. You will be encouraged reading that we all have a concrete, daily part to play in God`s Master plan for our world."
--Dr. John Fischer, Ph.D., Th.D., Executive Director, Menorah Ministries, Academic Vice President, St. Petersburg Theological Seminary
"Once, again, Russ Resnik has used his understanding of Scripture and rabbinic interpretation to uncover buried treasure in the Parashot. I appreciate both the spiritual depth and everyday practicality of Rabbi Resnik`s observations. He weaves a wonderful story through the weekly portions that are Messiah-centered and will strengthen and inspire all who read and meditate on his comments. I highly recommend Creation to Completion to anyone who loves the Lord and appreciates the Hebrew Scriptures."
--Dr. Mitch Glaser, Executive Director, Chosen People Ministries
"This new book of reflections applies Torah with a depth of understanding from a Yeshua-centered perspective. It is a book that provides elevated inspiration and excellent information."
--Dr. Daniel Juster, Executive Director, Tikkun Ministries
The author, Russ Resnik encountered Jesus (Yeshua) in the early 1970s. He founded and was the first rabbi of Adat Yeshua, a Messianic congregation in Albuquerque. Today, he serves as executive director of the Union of Messianic Jewish Congregations, an association that establishes, strengthens, and multiplies congregations for Yeshua. He authored Gateways to Torah, his first work on the Five Books of Moses, written from a Messianic Jewish perspective. Russ and his wife Jane live in Albuquerque and have four children and six grandchildren. 256 pages.
Paperback.  5.5 x 0.8 x 8.2 inches.  229 pages
Software containing this book: BibleSoft