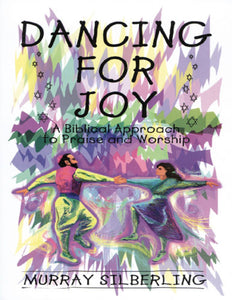 Get up out of your seats and praise the Lord through dance!
Worship occurs in many ways. Some people worship God through good works. Others worship the Lord through prayer. Many worship the Almighty through singing songs of praise. But more and more people are worshipping God through dance.
In Dancing for Joy, Murray Silberling, one of the world`s foremost experts on worship dance, uncovers fascinating facts about this biblical form of worship.
This "the dancing rabbi," as he is affectionately known in Messianic Jewish circles, brings years of experience in worship dance and teaching worship dance to this book. He offers encouragement to the klutz--the clumsy person--who doesn`t think dancing is for him. He also confronts the fallacy that dancing is only for women. He demonstrates how dance has been used through the ages as a way to worship God.
As a theologian, he handles well the theology of dance; as a Messianic rabbi, he deals with its ministry value; as a dancer, himself, he shares exactly how to begin. Appendices include definitions for dance steps and sample dances with instructions.
From the Author
Whenever people catch [the] vision and begin dancing, I know that great and powerful changes will soon be occurring in their lives. Just as Moses wished that all God's people would prophesy (Numbers 11:29), so I wish that all God's people could dance before him....
I believe that one day the entire body of Messiah will be dancing before his throne. Dance is the most powerful expression of intimacy between God and his children. My desire is that you begin to dance before the Lord, today!
About the Author
Murray Silberling was raised in a Conservative Jewish home. His upbringing was influenced by his Orthodox grandfather. After accepting Messiah and attending Bible college, Murray and his wife were called to Taiwan where he became the Taiwan Director of the Christian Broadcasting Network.
Returning to the States, Murray completed his education at Seattle Pacific University, and in 1982 began "Congregation Emmaus". In 1987 he started his second Messianic Congregation, "Beth Simcha".
He lives in Southern California with his wife, Kay, and their two sons, Lonnie and Jordan. He serves as Messianic Rabbi of "Congregation Beth Emunah" in Canoga Park.
Paperback.  5.5 x 0.5 x 8.8 inches  112 pages.