Important Notice:
Our customer service number (800-410-7367) is now being answered by Baker & Taylor Publisher Services as they are our new fulfillment company. We appreciate your patience as we go through this transition. We expect that Baker & Taylor Publisher Services will be offering excellent customer service expertise to all of our customers. Should you have any questions or concerns, please email Lisa@MessianicJewish.net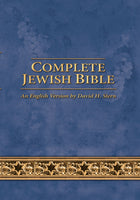 The Complete Jewish Bible
Our Best-selling, Complete Jewish Bible. Illuminating the Jewishness of God's Word; Hardcover Edition.
Shop Now