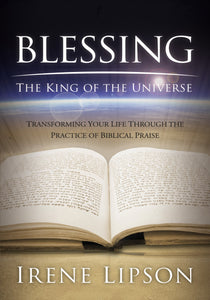 Have you ever thought about blessing God? Probably not!
When most people think about blessings, they think about what kind of blessings they can get--a new car, a kinder husband, a better job, a healthier body. Now, God wants his children to have all kinds of blessings, but sometimes the blessings start coming to us--when we start blessing God first. But how do we bless God?
In this groundbreaking new book, insights into the ancient biblical practice of blessing God are offered clearly and practically. Once someone understands this concept, it transforms his or her life. A new appreciation of nature starts. An awareness of the presence of God in even the most mundane aspects of one`s life elevates a person`s existence and provides great joy. Life just gets better and better.
With examples from Scripture and Jewish tradition this book:
teaches you the biblical formula used by the men and women of the Bible, including the Messiah
enables you to grasp the Bible better than ever, as you learn more about the Jewish roots of your faith
When you start Blessing the King of the Universe, Transforming Your Life through the Practice of Biblical Praise you will find the peace and joy that come from a renewed relationship with God. You will be following the example of the Messiah, himself.
Tefillah (prayer) is our vital link to our Heavenly Father. This book provides renewed understanding of the Jewish perspective as we draw closer through the Messiah Yeshua.

--Rabbi Barney Kasdan, Kehilat Ariel Messianic Synagogue, San Diego
***
Mrs. Lipson has done us the great service of recasting our traditional liturgical prayers in a Yeshua-centered, God-honoring, and meaningful way.
--Dr. Mitch Glaser, President, Chosen People Ministries
***
A fascinating bridge between the thought world of early rabbinic Judaism and the life of modern Messianic Jews.
--Dan Cohn-Sherbok, Reform Rabbi and Professor of Judaism at the University of Wales
  Paperback. 144 pages.  5.6 x 0.3 x 8.6 inches.