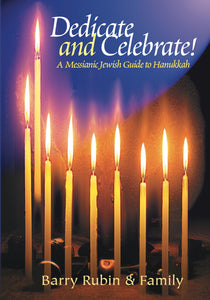 Hanukkah, the Feast of Dedication, or the Festival of Lights, is not the Jewish alternative to Christmas.
Although it is celebrated in the winter, this festive holiday describes a story all its own--of faithfulness to God, of bravery against all odds, and of the rededication of a defiled Temple.
For Jews, Hanukkah is a time of bright lights, of delicious smells, of delightful singing, presents, and games. It is a time to proudly remember our heroes and wonder at the miracles of God.
Yeshua (Jesus) the Messiah--himself a Jew--also celebrated Hanukkah as recorded in John 10:22--
"Then came Hanukkah in Yerushalayim [Jerusalem]. It was winter, and Yeshua was walking around inside the temple area, in Shlomo`s Colonnade." (John 10:22)
But Hanukkah is not just for Jews!
Hanukkah means "dedication," a theme of significance for Jews and Christians.
So why not look into this fascinating holiday!
Discussing its historical background, its modern-day customs, its deep meaning for all of God`s people, this little booklet covers all the how-tos! Recipes, music, rules for playing dreydel and prayers for lighting the menorah are all included! 32 pages. 
". . . poignantly written . . . for the benefit of the novice as much as the experienced Hanukkah reveler."
--The Messianic Times, November 2002
Paperback. 5.7 x 0.1 x 8.4 inches. 25 pages.