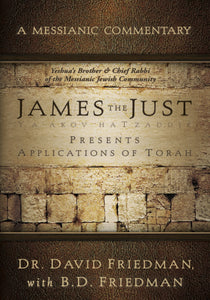 152 pages. 6x9 Paperback
Yeshua's Brother & Chief Rabbi of the Messianic Jewish Community James the Just (Ya`Akov HaTzaddik) Presents Applications of Torah By Dr. David Friedman with B.D. Friedman
When we view Ya'acov (James) for who he was: a chief rabbi, a Torah scholar, a Bible commentator, and akin to a high court judge, then we can better understand the purpose of his book. One of the main thrusts of Ya'acov's teaching is encouraging the practical application of the Torah's teachings.
"…a whole new perspective on how to view the book of Ya`acov. With his scholarship and knowledge of ancient Hebrew texts, Dr. Friedman puts Ya`acov back into his correct historical context and gives us much to chew on."
— Dr. M. Leibowitz, Tempe, AZ  
"…hidden Jewish concepts are brought out, which would have been known to the reference community of Ya'acov, who received this practical manual for Jewish life…an important explanation of the theme of "faith vs. works."
— S. H. R. ben Haim, MILIM-MJTI Center, Jerusalem, Israel.
"It is a privilege to drink from the author's very deep well of knowledge and understanding of the ancient languages of Scripture."
— Pastor Steven Shelley, Salem, AL.  
"Dr. David Friedman has written a refreshing look at the book of James/Ya'acov, making it clearly understood that there is a balance of Torah observance and God's grace."
— Shmuel Oppenheim, Rabbi, Lev HaShem Messianic Jewish Synagogue, Las Vegas, Nevada
Dr. David Friedman is the former Academic Dean and Professor of Jewish Studies at King of Kings College in Jerusalem, Israel. Currently, Friedman lectures internationally on biblical topics, as well as on the history of the modern State of Israel. A former member of the Israel Defense Forces, he also works actively in the area of Jewish-Arab reconciliation as a speaker and mentor and is an advocate for a secure State of Israel.  
B.D. Friedman is a native and resident of Jerusalem, Israel. He is a student and researcher in Ancient Hebrew and Biblical topics.
115 pages. 6x9 Paperback.