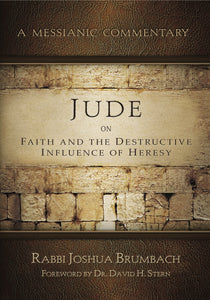 100 pages. 6x9 Paperback 
Almost no other canonical book has been as neglected and overlooked as the Epistle of Jude. This little book may be small, but it has a big message that is even more relevant today as when it was originally written.
"This short commentary punches above its weight….easily accessible, drawing from the cutting edge of contemporary biblical scholarship."
—Dr. Richard Harvey, Associate Lecturer in Hebrew Bible and Jewish Studies and former Academic Dean, All Nations College, Hertfordshire, UK.
"…a superb introduction, presenting scholarly insights in an accessible, explanatory and uncomplicated manner, from a non-supersessionist point of view."
—Dr. Vered Hillel, Professor of New Testament Studies, former Associate Academic Dean, Israel College of the Bible, Netanya, Israel.
"… restores Jude to the importance it should have in the Messianic Jewish and Christian communities."
—Dr. Daniel C. Juster, Director, Tikkun International, founding President of the Union of Messianic Jewish Congregations
"…clear, concise, and informative. An essential contribution of current scholarship and rabbinic literature."
—Dr. Sophia Magallanes, Assistant Professor of Biblical Studies, Life Pacific College, San Dimas, CA
"It should be required reading at every seminary."
—The Reverend R. John Perling, Mount Calvary Lutheran Church, Beverly Hills, CA
"… more than a commentary on Jude….[it] opens the entire breadth of Second Temple Jewish literature in a simple and clear manner."
—Rabbi Murray Silberling, Beth Emunah Messianic Synagogue, Agoura Hills, CA Rabbi Joshua Brumbach is the Senior Rabbi of Ahavat Zion Messianic Synagogue in Beverly Hills, California. An accredited Jewish educator, he has studied in various Jewish institutions including an Orthodox yeshiva in Europe. He is ordained by the Union of Messianic Jewish Congregations and the Messianic Jewish Rabbinical Council. He holds a MJS in Rabbinic Writings from Messianic Jewish Theological Institute, a BA in Ancient Near Eastern Civilizations and Biblical Studies from UCLA, and an AA in Anthropology.