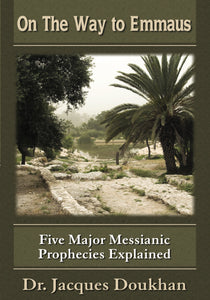 "Paul called the leaders of the Jews together . . . many came to him at his lodging, to whom he explained and solemnly testified of the kingdom of God, persuading them concerning Jesus from the Law of Moses and the prophets, from morning till evening. And some were persuaded by the things which were spoken, and some disbelieved." (Acts 28:17, 23–24, cf. Luke 24: 27, 44; Acts 8:35)
The discussion about messianic prophecies is, therefore, an important one. It hits at the very origins of Christianity and takes us to the very heart of the early Jewish-Christian controversy.
"…covers a large field of biblical texts, from the first chapters of Genesis onward to a good dozen of texts and, from there, to the Septuagint, the Targums, the Dead Sea Scrolls, the Jewish traditional sources such as Midrashic and Talmudic, and the New Testament! The author's exposition is consistently challenging and thought-provoking. I strongly recommend the publication of Jacques Doukhan's present work."
— André LaCocque, Professor Emeritus of Hebrew Bible, Chicago Theological Seminary
"I have read On the Way to Emmaus, and I highly recommend it. The book provides a careful reading of the most important messianic prophecies in the bible, one that will be appreciated by most Messianic Jews and sympathetic evangelical Christians. It displays solid conservative scholarship, as we would expect from a respected veteran such as Doukhan. But it also builds upon current methodologies, such as inner-biblical exegesis, to open new avenues of interpretation."
— Rabbi Mark S. Kinzer, Ph.D., Senior Scholar, Messiainic Jewish Theological Institute
Dr. Jacques Benyamin Doukhan, who was educated in France, Israel, and the United States, holds a doctorate in Hebrew and Jewish Studies (D.Heb.Lett.) from the University of Strasbourg and a second doctorate in Theology (Th.D.) from Andrews University. He was also the recipient of a post-doctorate research scholarship from the Hebrew University of Jerusalem and holds a Master in Egyptology from the University of Montpellier. He is currently a professor of Hebrew Language, Exegesis, and Jewish Studies, and director of the Institute of Jewish-Christian Studies at Andrews University.
Softcover, 209 pages.  5.5 x 0.5 x 8.2 inches