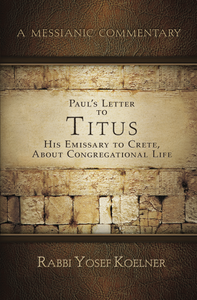 112 pages. 6x9 Paperback
The congregational issues that are addressed in the letter to Titus transcend culture and are common to congregations in any stage of development. Every congregation faces the challenges of organizing or reorganizing their structure; appointing qualified leaders; and dealing with internal divisions. The letter to Titus emphasizes the importance of sound doctrine, modeled and taught by qualified leaders. The purpose of this commentary on the letter to Titus is to examine these issues in their original Jewish cultural context. 
Endorsements:

"You will see the Letter to Titus in a new light after reading this succinct, thought-provoking commentary." —Dr. Michael L. Brown, host of the Line of Fire radio broadcast and author of many books, including The Real Kosher Jesus. 
"In this concise and scholarly presentation, Rabbi Yosef Koelner offers a window to an important letter by a first century Messianic scholar (Sha'ul/Paul) while shedding light on some ideas and phrases that are lost to us today." —Dr. Randall Smith, author, pastor, professor and developer of acclaimed study tours of the Middle East. 
"...provides up-to-date cultural background to clarify the text. Includes helpful supplemental articles. I highly recommend it for anyone's commentary collection." —Dr. Daniel Juster, pioneer of Messianic Judaism and eminent scholar
"A leader in the modern-day Messianic movement for over 45 years, he is a noted teacher, with a strong love for Torah, Hebrew and his Talmidim (Disciples). This book is a must read!" —Dr. Charles Kluge, Rabbi of Shuva Israel of the Palm Beaches
About the Author:
Yosef (Harvey) Koelner was born in Chicago and raised in an Orthodox Jewish home. His extended family is among the Chalutzim (Pioneers), early settlers of Israel.
His education includes a BA in Spanish and Latin American Studies from Illinois State University; a Master of Ministry with a concentration in Jewish studies from Messiah Biblical University; an MAA in Jewish Studies from Gratz College as well was a Doctor of Practical Ministry from Wagner Leadership Institute.
His ministry spans four decades—Rabbi of Temple Aron HaKodesh for 28 years and Rabbi Emeritus of Kehilat Bet Avinu, both in the Fort Lauderdale area. A Spanish speaker, he travels extensively throughout Latin America presenting seminars on Jewish subjects.