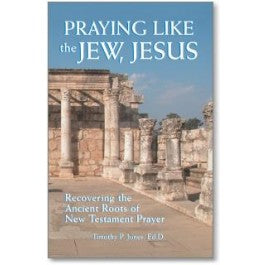 How did Yeshua (Jesus) pray?
What Jewish customs and traditions formed the basis of the Messiah`s prayers?
This eye-opening book reveals the Jewish background of many of Yeshua`s prayers.
Historical vignettes will "transport" you to the times of Yeshua so you can grasp the full meaning of Messiah`s prayers.  
Unique devotional thoughts and meditations, presented in down-to-earth language, provide inspiration for a more meaningful prayer life and help you draw close to God.
Praying Like the Jew, Jesus is a treasure-trove of information and inspiration. After reading this book, your understanding of God, prayer, and the Bible will be forever changed.
Words of praise for Praying Like the Jew, Jesus--
"unearths hidden spiritual riches in the New Testament. Jones has done a great service."
--From the Foreword by Mark Galli, Managing Editor, Christianity Today
"Old truths become new realities in the inspiring pages of this guide to authentic prayer."
--James W. Goll, author and co-founder of Encounters Network
"With penetrating beauty, Jones bridges the chasm between our Greco-Romanized view of the Lord`s prayer life, to the rhythm and understanding of the Jewish prayer life of Yeshua."
--Rev. Robert Stearns, Executive Director, Eagles` Wings
"Timothy Jones has enlightened us all. He combines imaginative story telling with knowledge of the Land and its textual richness. These retellings of gospel stories have color, pathos, and humor."
--James F. Strange, Professor, Department of Religious Studies, University of South Florida
"As he examines the prayers Jesus prayed, Jones provides keen insights and layers of meaning to the enterprise of prayer. The imaginative historical vignettes bring the prayers of Jesus to life."
--Dr. John Fischer, Exec. Dir., Menorah Ministries; Rabbi, Congregation Ohr Chadash
About the Author
Timothy P. Jones, Ed. D. (Doctor of Education, Southern Baptist Theological Seminary) is the author of several textbooks and curricula. His articles have appeared in major Christian magazines and journals. He is Adjunct Professor of Biblical Languages at two universities. Dr. Jones is the senior pastor of First Baptist Church of Rolling Hills in Tulsa, Oklahoma
Paperback. 5.6 x 0.4 x 8.5 inches.  144 pages