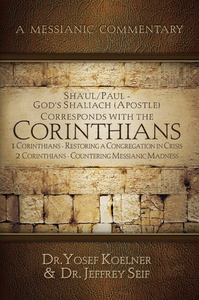 254 pages. 6x9 Paperback
1 Corinthians: Restoring a Congregation in Crisis by Dr. Yosef Koelner
2 Corinthians: Countering Messianic Madness by Dr. Jeffrey Seif
In this volume, you will find two separate commentaries from educated, experienced Messianic Jewish rabbis—each relying on his background. They speak to the weighty matters with which Paul, the Rabbi from Tarsus, was dealing—immorality, incest, marriage, congregational conflicts, and more, many of the same challenges we face today. 
ENDORSEMENTS:
"This commentary on 1st and 2nd Corinthians will unravel some of the most misunderstood and confusing teachings in the church today." —Jonathan Bernis, CEO, Jewish Voice Ministries
"Coming from a traditional Jewish home, with studies in Hebrew, Koelner brings deep insight to believers hungry to understand God's word."—Ron Cantor, President of Shelanu TV, the only 24-7 Hebrew language TV channel sharing the message Yeshua
"This must-have commentary on 1st Corinthians clarifies the historical, cultural, and theological issues in the text."—Rabbi Alex Yalenga, Senior Rabbi Zambia Messianic Fellowship, author, international speaker
"Excellent insights into the Hebraic thinking of Paul and the Jewish background of the time in which it was written"—Chuck Cohen, Director, Intercessors for Israel, Jerusalem
"Seif's compendium strikes a rare balance between multi-cultural scholarship on the one hand and readability on the other!—Boyd Luter, PhD, Professor Emeritus of Research and Bible, The King's University
ABOUT THE AUTHORS
Dr. Yosef Koelner was born in Chicago, raised in an Orthodox Jewish home. His extended family is among the early settlers of Israel. After obtaining a BA in Spanish and Latin American Studies from Illinois State University, a MA in Jewish Studies from Gratz College, he earned a Doctor of Practical Ministry. His ministry spans four decades. Fluent in Spanish, he travels extensively throughout Latin America presenting seminars on bible and Jewish subjects.
Dr. Jeffrey Seif has 30+ years of experience as a Bible college and seminary professor. Graduating from Southern Methodist University with both Masters of Theology and Doctor of Ministry degrees, he added a Master's degree in Applied Criminology and Police Management from Cambridge University—and is currently a doctoral student at Cambridge. Prof. Seif has authored many books and appears weekly on television on 'Our Jewish Roots'. Dr. Seif has recently been appointed as executive director of the Union of Messianic Jewish Congregations.