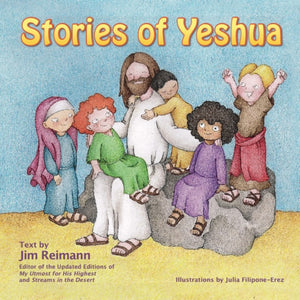 Children`s Bible Storybook with four stories about Yeshua (Jesus) in full color.
Yeshua is Born: The Bethlehem Story based on Luke 1:26-35 & 2:1-20
Yeshua and Nicodemus in Jerusalem based on John 3:1-16
Yeshua Loves the Little Children of the World based on Matthew 18:1-6 & 19:16-20:18, Luke 24:50-53
Yeshua is Alive—The Empty Tomb in Jerusalem based on Matthew 18:1-6 & 19:13-15
Ages 3-7
He was born in Chattanooga, TN. He graduated from Georgia State University receiving a bachelor's degree in finance. He founded and owned The Christian Armory, "1988-1989 Store of the Year" by the Christian Booksellers Association, was the C.O.O. of Family Christian Stores, the editor of "My Utmost for His Highest", "Streams in the Desert", "Morning by Morning" and "Evening by Evening", and led 26 Bible-teaching tours to Israel.
Paperback 48 pages