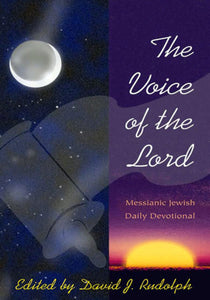 Here are words of encouragement that offer insight into the Jewish Scriptures--both Old and New Testaments.
Twenty-two prominent Messianic contributors provide practical ways to apply biblical truth. These devotions--
explore the Jewish roots of the New Testament
explain Hebrew words and phrases
are filled with anecdotes from Jewish life and literature
Jump-start your day with this unique resource. Keyed to the Hebrew calendar, this unique devotional begins with the month of Tishri.
Extensive appendices include information on the Hebrew calendar, biblical and traditional feast days, and traditional weekly readings from the Torah (Pentateuch), Haftarah (Prophets), and the Brit Chadashah (New Testament). 416 pages. ISBN: 1-880226-70-7
Words of praise for The Voice of the Lord--
"I believe you have done an excellent and very worthwhile piece of work in gathering these daily readings for Jewish believers. I pray that they may be widely used among Jewish believers, but also among Christians who need a different perspective in their daily readings from Scripture and in their devotions."
--Edith Schaeffer, Author and Lecturer
"Drawing upon the experiences of Jewish people from ancient and modern times, writers from various backgrounds of Messianic Jewish expression have produced a devotional to encourage us in our daily walk with the Holy One. Well written and well edited, this devotional communicates to the heart of the reader. I heartily recommend it for a new and fresh spiritual experience."
--Dr. Louis Goldberg, Former Prof. of Theology and Jewish Studies, Moody Bible Institute
"The Messianic devotional will serve as a useful tool for building the spiritual lives of both Jewish and Gentile believers alike. The Word of the Lord is communicated by the authors with great personal warmth and integrity--it is clear that each one is writing out of personal experience with the living God. I recommend it highly."
--Dr. Mitch Glaser, President, Chosen People Ministries
"Twenty-two distinguished leaders in the Messianic Jewish movement share their hearts` response to Scripture, reminding us to practice the presence of Yeshua the Messiah daily."
--Dr. David H. Stern, Author and Translator
"You will find yourself moving into vital contact with the `Believing Remnant` among the Jewish people today. Listen as you are addressed from the heart. Then, turn to the Lord in prayer, praise, worship, and adoration. I highly recommend it!"
--Dr. Arthur F. Glasser, Dean Emeritus, Fuller Theological Seminary
About the Author
David Rudolph (Ph.D., Cambridge University) is the Rabbi of Tikvat Israel Messianic Synagogue in Richmond, Virginia, and teaches New Testament at the MJTI School of Jewish Studies. David and his wife Harumi have been married for twenty-four years and have three daughters.
Paperback.  5.5 x 1 x 8.5 inches. 416 pages.

Software containing this book: