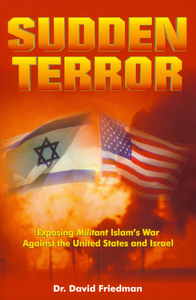 FREE with any Donation or Purchase: Put this book in your cart and enter the code Sudden at checkout.
To DONATE:  https://www.messianicjewish.net/products/donate-to-support-our-ministry?_pos=1&_sid=fa0ffb4e0&_ss=r
"Suddenly, a black Mercedes Benz approached from the opposite direction . . . men in leather jackets jumped out and rushed at me [shouting], "We don`t let Jews pass by on this road." Gripped with fear, I waited a second, hoping they would back down, but instead, they surrounded my car . . . Bursting out of my car, I pulled my gun and pointed it at my attackers." From chapter 1
Sudden Terror exposes the hidden agenda of militant Islam. You will learn
why both the United States and Israel are targets of this radical scheme
what nations that give rise to terrorism are teaching their children
what is being printed in their newspapers and broadcast over their airwaves
The author, a former member of the Israel Defense Forces, provides eye-opening evidence to answer these and other critical questions.
In Sudden Terror, Dr. David Friedman
recounts his experiences confronting terrorism
analyzes the biblical roots of the conflict between Israel and Islam
provides an overview of early Islam
demonstrates how the United States and Israel are bound together by a common enemy
shows how to cope with terrorism and conquer fear
Sudden Terror is the culmination of many years of research and personal experiences. This expose will prepare you for what`s to come!
160 pages - Paperback.