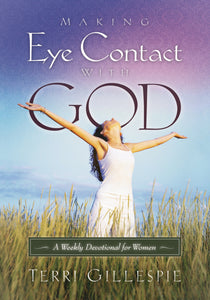 What kind of eyes do you have?
Are they downcast and sad?
Are they full of God`s joy and passion?

This weekly devotional, for women only, enables you to really see God in a new and fresh way. Using real life anecdotes, combined with scripture, author Terri Gillespie reveals God`s heart for women everywhere, as she softly speaks of the ways in which women see God.
What others are saying:
"Making Eye Contact with God escorts us into the secret place where we can regularly meet with Abba, our heavenly Father. Whether you are Jewish or Gentile, this book will help you explore the most secret and vulnerable places of your heart, while you gaze into the loving eyes of the Messiah."
--Dr. Angela Hunt, Christy-Award winning author of The Face, Magdalene and The Shadow Women
"Brew a cup of tea and steal away with this treasure trove brimming with godly wisdom! Written with delightful humor and tenderness each devotional is refreshingly relevant and challenging to anyone seeking to know Messiah more intimately."
--Kathy Shooster, Messianic Songwriter/Recording Artist
"Thank you for the inspiration Making Eye Contact With God will bring to the women into whose blessed hands it falls."
Debra Chernoff, rebbitzen, Congregation Beth Yeshua/songwriter/speaker
"Making Eye Contact With God is an extremely reflective, inspiring and motivating message, one women of all ages will relate to. I`m so glad that a devotional like this finally exists!"
--Sharon Chernoff Wilbur, Messianic Singer, songwriter, recording artist
From the Author
Author: Terri Gillespie
    Tell us a little about yourself.   As a wife, mother, director of development operations for a ministry, author and speaker, I know how difficult it is to scratch out meaningful time with the Lord when I barely have time to shave my legs. My hubby, daughter and I have moved over 20 times and I found that no matter where we lived and what the backgrounds of the people we met, they all longed to be loved and completely accepted.
    What was your motivation behind this project?   A number of years ago a sparrow trapped itself inside our window. He frantically threw his tiny body against the glass to escape. I unlocked the sash and lifted it a few inches. The sparrow became so agitated I was afraid the little guy would have a heart attack. What if he flew into the house? I'd have a bigger problem on my hands. How could I safely remove him? I began speaking in soothing tones as I attempted to guide him into my hand. It wasn't working. My words of comfort switched to prayers. Impulsively, I grabbed the sparrow by the tail feathers. With my other hand I formed a cell for the frightened captive. He reacted more violently than I expected. I could barely hold him with both hands, how was I going to open the doors to release him? I continued to alternately speak to him and pray. Then we made eye contact. His shiny bead-like eyes and mine connected. Immediately his struggle ceased. I was able to remove one hand. He sat quietly in my palm as I opened the doors. Seconds later, he was free, and I was left in wonder. For months afterward every time I saw a sparrow I replayed the event in my head. As much as I hated to admit it, the incident seemed like a graphic picture of my relationship with God. How many times had He reached out to rescue me, but I flew away in fear or confusion? How often was He forced to grab me by the tail feathers to prevent me from getting into more trouble? How many times had He held me in His hand only to have me fight Him thinking I was trapped? How much easier it would have been had I turned my eyes toward the Lord--to make eye contact with Him.
    What do you hope folks will gain from this project?   That women will truly understand just how much the Lord loves us. That this love has at its very core great intimacy--and we don't have to be afraid of Him. That we can explore who we were destined to be in that love.
    How were you personally impacted by working on this project?   Writing this book was a cross between running a marathon (not that I've EVER done that) and a honeymoon. There were nights I sat at the computer waiting for the Lord to tell me what to write--like a bride for her groom. It was the most precious, nerve-racking time of my life and I'll forever thank Him for the honor and joy.
    Who are your influences, sources of inspiration or favorite authors / artists?   I belong to a Messianic Jewish congregation and the women there have been incredible influences in my life; they've seen me through some of the most difficult seasons of my life. My mother. My daughter. My sisters. Angela Hunt and Marlene Bagnull are great inspirations to me as a writer. Angie's combination of practical and compassionate advice and encouragement was like a little voice saying, "You can do it." Marlene literally dragged me kicking and screaming into the ministry I thought had long ago died.
    Anything else you'd like readers / listeners to know:   I hereby give any reader the permission to read the book through completely BEFORE actually using the interactive portions of the devotionals. AND, you can jump around and don't have to read them in order. The devotional is a beautiful mentoring/discipleship tool. A wonderful way to teach and be vulnerable at the same time. This book contains some Jewish terminology as a tribute to my Messianic sisters. But rest assured, the themes are for every woman, to draw them close enough to the Lord to make eye contact with Him.
Hardcover 5.9 x 0.9 x 8.7 inches   256 pages.