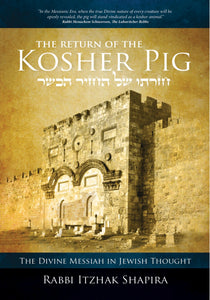 Far from a study of kosher dietary laws, this book is an unprecedented journey toward the true identity of the Divine Messiah—the one previously considered "unkosher" and "unacceptable" by Jewish people. This encyclopedic volume will surprise and challenge you with the compelling words of Jewish sages and rabbis over the last 2,000 years, many in English for the first time.
The Return of the Kosher Pig features:
Glossary of over 300 terms that will enable readers to dive deeper into Hebraic/biblical thought
Directory of all major rabbinical works on the issue of Messiah in the last 2,000 years
Index of all references from the Torah, Prophets, Writings, New Testament, and the Talmud
Easy-to-read format that provides an excellent study tool for students of scripture
Full bibliography with numerous sources that are "hidden" to many English speakers on the nature of the Messiah
"A real eye opener. Well researched. Well written. Engaging. A great read for those wanting to get insights in the Jewish world and worldview."
—Dr. Jeffrey Seif, Kings University Distinguished Professor of Bible and Jewish Studies

"One of the most interesting and learned tomes I have ever read. Contained within its pages is much with which I agree, some with which I disagree, and much about which I never thought. Rabbi Shapria's remarkable book cannot be ignored."
—Dr. Paige Patterson, President, Southwest Baptist Theological Seminary

"Traditional rabbis and counter-missionaries have said that they cannot consider our claim that Yeshua the Messiah is divine. Now, this Messianic Jewish rabbi has challenged that objection, relying entirely on the Hebrew Scriptures and traditional Jewish literature, and he has done so with much careful study and great spiritual passion. Is it possible that a Jew can embrace Yeshua as the divine Messiah and follow traditional Jewish sources as well? Read this book and find out for yourself!"
—Michael L. Brown, Ph.D. | Author, Answering Jewish Objections to Jesus, Volumes 1–5
---
Tzahi (Itzhak) Shapira was born and raised in a traditional Sephardic Jewish home in Israel. After years of studying Rabbinic Jewish texts, he found the Messiah within the Hebrew writings. Holding full Rabbinic ordination from the IAMCS, he serves as the founding rabbi of Ahavat Ammi Ministries, an international Jewish organization that is focused on reconciliation between Jews and Yeshua. For more information, visit www.kosherpig.org and www.ahavatammi.org.
Paperback  5.8 x 0.9 x 8.7 inches  352 pages