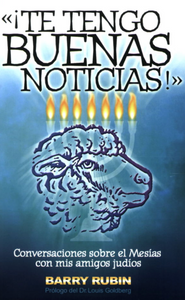 The Spanish edition of "You Bring the Bagels, I`ll Bring the Gospel" by Barry Rubin.
This "how-to-witness-to-Jewish-people" book is an orderly presentation of everything you`ll need to share the Messiah with a Jewish friend or co-worker in a loving, non-confrontational manner. Offers insights into understanding Jewish religion and culture. Includes Messianic prophecies, Jewish objections to believing in Jesus, sensitivities in your witness and more. You`ll be educated and encouraged. Divided into four sections:
You--the Gentile Christian
Your Message--the Jewish Gospel
Your Audience--The Jewish People and
Feedback--Barriers to Believers

"It is a pleasure to commend the most enjoyable and readable book I have seen recently on sharing the Gospel with our Jewish neighbors."
Walter C. Kaiser, Jr., Ph.D., President, Gordon-Conwell Theological Seminary
"Barry Rubin, a Jewish believer, has come to our rescue with this winsome, utterly lucid book."
Dr. Arthur F. Glasser, Dean Emeritus, Fuller Theological Seminary
"Barry Rubin . . . has done a superb job of sharing with believers the ways in which they can share their faith with Jewish people."
Harold A. Sevener, former President, Chosen People Ministries
About Rabbi Barry Rubin
In 1988, Rabbi Rubin became the director of The Lederer Foundation, now called Messianic Jewish Publishers and Resources, then a fifty+ year organization formerly located in the Orthodox Jewish section of Baltimore, now headquartered in Clarksville/Columbia of Howard County, Maryland.
He is the author of You Bring the Bagels, I'll Bring the Gospel: Sharing Messiah with Jewish people; The Sabbath: Entering God's Rest; the Messianic Passover Haggadah; Dedicate and Celebrate: A Messianic Jewish Guide to Hanukkah and numerous articles. He published the Messianic Jewish Life magazine, the publication of the International Messianic Jewish Alliance. Rabbi Rubin's inspiring and educational teaching and preaching programs have been appreciated by many hundreds of churches.
Paperback 8.4 x 5.4 x 0.6 inches 272 pages