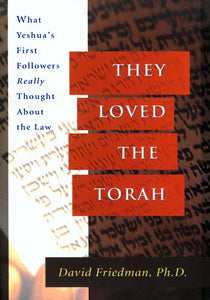 Did Yeshua observe the Law? Did Paul teach his congregations to abandon the Torah? Was the devout Jew, Peter, persuaded that the Commandments were cancelled? The answers you`ll find in this book may surprise you!
Even though many Jews believe that Paul taught against the Law, this book disproves that notion. Most Christians are disconnected from the Torah; reading this book will reconnect them. Dr. Friedman makes an excellent case for his premise that all the first followers of Messiah were not only Torah-observant, but also desired to spread their love for God`s entire Word to the Gentiles to whom they preached.
Part 1 Yeshua and the Torah
Part 2 Yeshua`s Talmidim and the Torah
Part 3 Reactions to the Torah Observance of Yeshua and His Followers
Part 4 Torah Observance: Legalism or Love?
David Friedman, former academic dean of King of Kings College in Jerusalem, holds a Ph.D. in Judaic studies and an M.A. in Arabic.
Here`s what they`re saying about They Loved the Torah:
". . . a highly readable, well-presented discussion of a significant subject--the Jewish nature of Yeshua, his followers, and the movement they started . . . a must read."—Dr. John Fischer--Rabbi, Congregation Ohr Chadash, Clearwater, Florida.; Director, Menorah Ministries; author of The Distortion
"A book worth reading especially for those who are new to the Messianic Jewish movement and its biblical foundations."—The Messianic Times, Fall 2001
"A well-informed discussion which will help New Covenant believers think about the place of Torah in their lives."—David Stern--author and translator of the Jewish New Testament and Commentary, the Complete Jewish Bible, and other Messianic Jewish books
". . . contains not only sound scholarship but was written by a humble Jewish scholar, one who loves both the living Torah (Yeshua), as well as the written Torah."
—Ariel Berkowitz--author and leader of Kehilat Neve Tzion, Jerusalem
"Meticulous, relevant and fascinating! If New Covenant faith and Torah observance are important to you, this is the book for you".—Stuart Dauermann--President, Hashivenu Inc.; Rabbi, Ahavat Zion Messianic Synagogue, Beverly Hills, California
Paperback.  5.4 x 0.4 x 8.4inches  144 pages