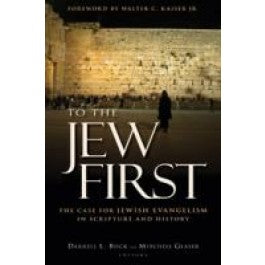 "For I am not ashamed of the Good News, since it is God`s powerful means of bringing salvation to everyone who keeps on trusting, to the Jew especially, but equally to the Gentile." Rom. 1:16
Organized around the biblical mandate in Romans 1:16, To the Jew First is a comprehensive look at the biblical, theological, historical and practical basis for Jewish evangelism. Featuring the scholarship of leading North American theologians "representing a range of theological views", it stands to become a widely used textbook and definitive resource for pastors, missionaries, and evangelists. 347 pages.
Topics Discussed:
Part I
Bible; explores the meaning of Paul`s phrase "to the Jew first," the role of Israel in God`s overarching plan of salvation, Jewish evangelism in the book of Acts, the relationship between evangelism and Jesus` arguments with Jewish leaders, the work of the Holy Spirit in evangelism, and more.
Part II
Theology; examines the future of Israel, the church`s stance toward Jewish evangelism in a post-Holocaust world, the gospel for the Jews from both a Dispensational and Reformed perspective, the theological implications of "to the Jew first," and more.
Part III
Mission; first looks at the history of Jewish missions in the past century; it then treats the missiological dimensions and importance of Jewish evangelism, as well as the gospel`s ramifications for both Jew and Gentile.