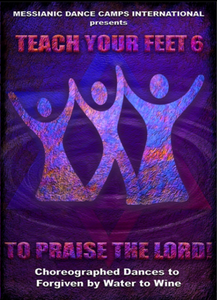 Deuteronomy 6:5 says, Love the Lord your God with all your heart and with all your soul and with all your strength. Choreographed Dances to Water to Wine`s Forgiven CD, gives the worshipper beautiful and simple steps that helps a broad range of dancer, with beginning to high-intermediate level dances of adoration for the Most High. On this DVD we have used wonderful interchangeable steps that are made to encourage, inspire, and to be an aid for the worship dancer in choreography.
The Holy One is enthroned upon the praises of His people Israel. Throughout Scripture, in good times and in challenging times as well, joyful praise has welled up out of the hearts of those who love Him, in the form of music and dance. Miriam led the women of Israel as they danced and sang to the Lord after crossing the Red Sea. David danced before Adonai with all his might as the ark was brought up into the City of David. He later wrote, "You turned my mourning into dancing!" and "Let them praise His Name with dancing!" What I like most about the Setas` ministry is their emphasis on Messianic dance as worship from the heart. Their beautiful choreography and easy to follow instructions help to draw worshipers into the very throne room of Elohim.
This DVD includes nine dances to the songs listed below:
SOMEONE TO BELIEVE IN
BLESSED ARE YOU, O LORD OUR GOD (BAR`CHU)
BLESSED ARE THE EYES
FORGIVEN
ABBA
LIFT ME UP
THE LORD IS MY SHEPHERD
I AM FOUND
ALL HAIL TO THE KING OF THE UNIVERSE
Water To Wine
Water to Wine is one of the first breakout Messianic Singing Trios and the Forgiven CD (sold separately) includes the original eleven recordings digitally re-mastered and re-released. The DVD as well includes the original Blessed Are You, O Lord Our God.