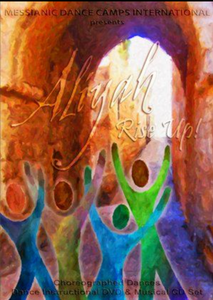 The second "Rise Up!" choreographed dance project features ten dances to songs from various musical artists who are living in the land of Israel.
We are raising awareness to the need that our brothers and sisters there have for our love, support, and encouragement. So please consider connecting yourself to the land by personally reaching out to them. You will receive a blessing from the God of Israel if you do.
Enjoy these new dances and the music of the land. Let`s bless Israel together. "Aliyah~Rise Up!"
The New "Aliyah~Rise Up!" DVD and CD set features 10 Choreographed Dances to the Music of Israel—new music by Messianic artists in Israel.
Songs included are:
Hallelujah Amen by Ellah Gorelik
He Is The Example by Oxana Eliahu & sung by Ronen Shalom
Out of Egypt by Carolyn Hyde
Eretz Zavat by Rivka Whitten, Music by Marc Chopinsky from Israel`s Hope
And more…
Comments --
Mindy, you have out-done yourself...the Aliyah Rise Up 2 is so amazing!!! I can`t decide which dance is my favorite...I thank Adonai for you and your anointing and Ralph and the girls...love, blessings, and shalom.
~Belinda C. Lopez
Got latest Aliyah DVD yesterday - watched it last night - absolutely LOVE it!!! I remember we danced to Eretz Zavat Chalav with Rivka Whitten at the Dead Sea hotel. What an awesome trip to Israel that was! I guess I have a lot of new dances to learn now - starting with "nothing will be impossible" - love that song :-)
~Shirley Schneeberger
Hello Ralph and Mindy, I just wanted to say that you did a wonderful job on the new Aliyah Rise Up dance dvd. I received the dvd yesterday. WOW! It is AMAZING! I love the music, and of course your beyond wonderful dances. (I don`t know how you think of them all!) My most favorite song so far is "He is the Example". I love the music , and the AWESOME dance. May Yahway always bless you. Have a wonderful Shabbat.
~Lori Tapio