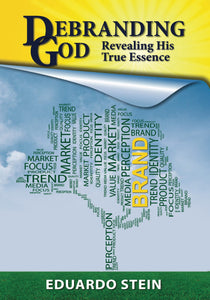 The process of 'debranding' God s to remove all the labels and fads that prompt us to understand him as a supplier and ourselves as the most demanding of clients. Changing our perception of God also changes our perception of ourselves. He calls us his Am Segulah…his special people.
 Being special means:
Believing that all of God's instruction allows us to penetrate the borders of the impossible
Learning to value ourselves as a work of art signed by God
Wanting to change by becoming attached to promises rather than problems
 In knowing who we are in relationship to God, we discover his, and our, true essence.
Herein lies a journey that draws the reader to the ultimate questions of life, death, courage and meaning. The final destination is to be delivered to the lasting city, the New Jerusalem and the ultimate fulfillment of human life.—Daniel Juster, Th.D. First President, Union of Messianic Jewish Congregations; Director, Tikkun Ministries.
 The author pursues the supreme God that is above our human biases and predilections, drawing upon the ancient wisdom of Scripture and offering the encouragement one needs to keep our faith fresh and real. —Rabbi Russ Resnik, Executive Director Union of Messianic Jewish Congregations
 Eduardo lives in Copacabana Beach, Rio de Janeiro – Brazil. He has a BA in International Relations and Marketing but his greatest accomplishment and joy has been founding and leading Beit Tefilat Yeshua, a Messianic Jewish congregation for almost 13 years. He claims to be a compulsive researcher trying to unravel the mysteries of the FAITH GENOME, knowing that he will never learn anything beyond what has already been revealed.
Paperback. 252 Pages, 8.4 x 5.7 x 0.6 inches.