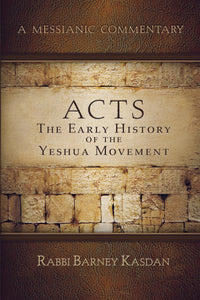 The Book of Acts describes a tumultuous time in biblical history, especially for Jews.
Caught in the political chaos of the house of Herod, the challenges of Roman rule over Judea and the sectarian battles within Judaism, this first century writer (Luke) documents the rise of an intriguing movement of Jews who embraced Yeshua/Jesus as the promised Messiah and describes what they had to deal with.
He also presents the connection between the Jewish first followers of Yeshua and the much larger Gentile world, out of which came many of the congregations formed in the first century to which Rav Shaul (Paul) wrote letters, making up most of the B'rit Hadashah (New Testament).
Who was Luke? Was he a Jew or non-Jew? Rabbi Kasdan presents this information so people can make an informed decision.
Barney Kasdan is the rabbi of a thriving Messianic synagogue, Kehilat Ariel in San Diego (ordained through the UMJC). He has a BA in History from Biola University, an M.Div from Talbot School of Theology and post graduate studies at American Jewish University in LA. Barney is the author of the popular books God's Appointed Times, God's Appointed Customs and Matthew Presents Yeshua King Messiah and has written numerous articles on Messianic Judaism. He also serves as a Chaplain for the San Diego Police Department. He and his wife Liz reside in San Diego and have four grown children.