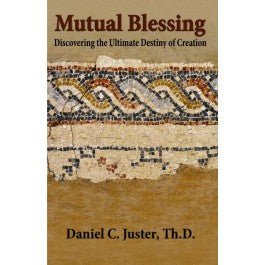 You are to love Adonai your God with all your heart and with all your soul and with all your strength…
and …You are to love your neighbor as yourself.
Matthew 22:37-39

To truly love as God loves is to see the wonder and richness of the distinct differences in all of creation and his natural order of interdependence. This is the way to mutual blessing and the discovery of the ultimate destiny of creation. Learn how to become enriched and blessed as you enrich and bless others and all that is around you!

 Dr. Daniel Juster is director of Tikkun International, founding president of the Union of Messianic Jewish Congregations and was the senior pastor of Beth Messiah Congregation from 1978-2012. His hunger and quest for truth led him through two evangelical colleges, two graduate-seminaries and four degrees. He authored many books and articles advocating for Messianic Judaism.  
Paperback. 135 Pages, 8.4 x 5.5 x 0.4 inches.