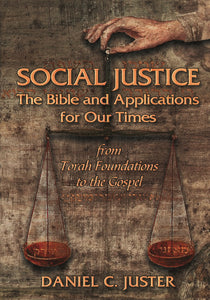 Justice, as a concept, mostly refers to all members of a society getting a just deal in provision and opportunity. As contrasted to legal justice before courts, where there is just restitution for crimes, resolution of conflicting claims for pay, inheritance and punishment for crimes, social justice is very connected to economic justice. Deuteronomy 17:10, affirms, Justice and only justice you are to pursue. (From the introduction)
What people are saying:
At last! A voice of sanity and clarity in the midst of today's social justice craze.... Bringing theological depth, solid biblical thinking, and a heart for the marginalized, Dan offers us a clear and concise guide to a complex and divisive issue. —Michael L. Brown, Ph.D., Host of the Line of Fire radio broadcast
Social justice is at the heart of the Scriptures and of Messianic Judaism. This is a must- read for all who want another perspective on tikkun olam (repairing the world).... Highly recommended! —David Rudolph, PhD; Director of Messianic Jewish Studies, Professor of New Testament and Jewish Studies, The King's University
Calls for Social Justice continue to increase both in number and intensity. Unfortunately, many such calls are made out of ignorance, misconception or ulterior motives.... Daniel wisely unveils the Bible's social justice truths in their originally- intended contexts....I couldn't stop reading it. This book is relevant and timely, and an excellent resource for any library. —Jerry Dirmann, Senior Pastor, The Rock (Foursquare Church), Anaheim, Cal.
This work will produce a wide spectrum of responses and views, but there can be little doubt that this discussion is sorely needed in our day if there ever was such a time in the past history of the United States! I highly recommend reading it and discussing it with colleagues. —Dr. Walter C. Kaiser, Jr.; President Emeritus, Gordon-Conwell Theological Seminary
About the Author
Dr. Daniel Juster, Th.D. is the Director of Tikkun International, a network of congregations and ministries in the United States and abroad. He is the founding president of the Union of Messianic Jewish Congregations, in which he served as president and general secretary. He also pastored congregations Adat Hatikvah in Chicago, and later, Beth Messiah in suburban Washington, D.C. from 1978- 2000. In recent years, he and his wife Patty have resided near Jerusalem.
Paperback.  5.5 x 0.6 x 8.4 inches.    146 pages.