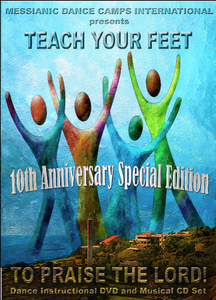 This choreographed 2 disk dance project contains eleven new dances along with instruction to new music by Sue and Brian Samuel, Ted Pearce, Deborah Kline and Vince Iantorno, and the Lumbrosos, and is appropriate for congregational worship. The Full-Length instructional DVD includes beginning, intermediate, and advanced dances so that every level is met.
The musical CD has all the music used on the DVD so that you have the selected songs to worship and dance with.
The Titles Included Are:
Awake Tzion
The Song of Hannah
This is the Year
Your Redemption Draweth Nigh
Lift!
Adonai Yireh
Purify me
Day of Messiah
Odekha
Ram Al Kol Goyim
Children of the Lord
A portion of each sale goes to help with the needs of believers living in Israel.