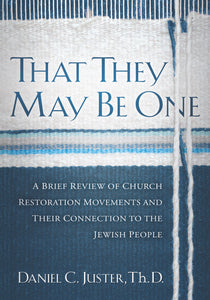 Something prophetic and momentous is happening. The Church is finally fully grasping its relationship to Israel and the Jewish people. Dan Juster describes the restoration movements in Church history and how they connected to Israel and the Jewish people. Each one contributed in some way – some more, some less – toward the ultimate unity between Jews and Gentiles. 
"In a day where authentic unity in the church is so desperately needed, That They May Be One is a breath of fresh air..."
Larry Kreider, International Director, D.O.V.E. Christian Fellowship International
"This book will serve to bridge the gap between Jew and Gentile, and aid us in moving together as 'one new man' in Yeshua."
Robert Stearns, Executive Director, Eagles Wings
"That They May Be One wonderfully puts into focus the importance of Israel and the Jewish roots of the Church for a greater self-awareness of every believer in the body of Christ."
Don Finto, Senior Pastor, Belmont
"I especially recommend this book for anyone seeking to better understand the importance of the Church's role and relationship with Israel as it relates to the full restoration of the Church into all that God has called her."
Mike Bickle, Executive Director, Friends of the Bridegroom
5.4 x 0.3 x 8.3 inches. Paperback.  97 pages.