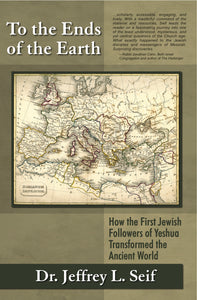 Did you know that before the spread of Messiah's message, Gentiles often sacrificed their children to their pagan gods? Did you know that there were temple prostitutes, working around the religious buildings in the Roman Empire to "help" citizens worship?
You do know that the first followers of Yeshua (Jesus) were Jews. And everyone knows by now that Jews spread his message through the ministry of Paul, Peter, and the other apostles. But most people don't know that these early Messianic Jews were influential in Ancient Judea, Syria, Asia Minor, Greece, Italy, Spain and the North African cities of Carthage, Cyrene and Alexandria. Not only were they influential, their impact transformed the behavior of the known world.
"…scholarly, accessible, engaging, and lively. With a masterful command of the material and resources, Seif leads the reader on a fascinating journey into one of the least understood, mysterious, and yet central questions of the Church age: What exactly happened to the Jewish disciples and messengers of Messiah. Surprising discoveries."
— Rabbi Jonathan Cahn, Beth Israel, Congregation and author of The Harbinger
"Jeffrey Seif gives convincing evidence that Jewish and Gentile believers in the early centuries were closely connected to each other and to the their Jewish roots, and less embracing of Roman pagan influences."
— Rev. Don Finto, President of The Caleb Foundation
"…good scholarship and creative insight to the great benefit of the Church and the Messianic Jewish community."
— Dan Juster, Th.D., Director of Tikkun Int'l
"…an intelligent, insightful, and up-to-date general history of the first Messianic Jews, and their enduring influence on the life of the early church. I highly recommend this work for both Christians and Messianic Jews. We can only understand who we are if we understand where we come from."
— Mark S. Kinzer, Ph.D., (Near Eastern Studies, University of Michigan)
"Join Jeff Seif on a guided tour through the Messianic Jewish communities of the ancient Mediterranean world and discover that they are the foundation of the Yeshua movement through the ages….a rare combination of scholarship and lively narrative, a story that will expand your understanding of Scripture, Judaism, and Christianity as well."
— Rabbi Russ Resnik, Executive Director Union of Messianic Jewish Congregations
"A careful and scholarly treatment, provides a helpful presentation of the early Jewish Jesus believers of the ancient church that is essential for understanding the gospel among the Jewish people."
— Michael Rydelnik, Ph.D., Professor of Jewish Studies, Moody Bible Institute
"…a key manuscript for scholars, ministers and laity alike. I wholeheartedly recommend this book."
— Wayne Wilks Jr., Ph.D., International Director, Messianic Jewish Bible Institute
Dr. Jeffrey Seif is best known through his work at the teaching helm of the nationally-syndicated television program, "Zola Levitt Presents. He has also served as a professor of Jewish Studies at a number of academic institutions. Jeff studied at the Moody Bible Institute in Chicago, and subsequently took a master's degree and doctorate from Southern Methodist University, Dallas, in theology and ministry.
Paperback, 5.5 x 0.4 x 8.3 inches 184 pages